It started out as the cellar. It was the dirt-floored space that housed an eight-armed scary-looking furnace and shelves of preserves. Over time it acquired a concrete floor and more space to store more stuff. In the 1950's the concept of the rec room was born and we've been spending more and more of our time in the basement ever since.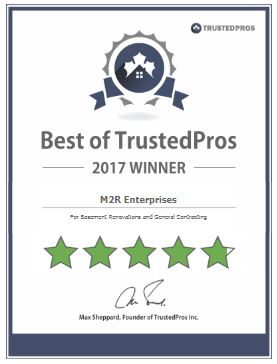 As our time in the basement increased our vision of what it should be matured. It's no longer just the place where we send the kids to play. It can be anything we want, family room, exercise room, home office, a separate, self-contained living space and so much more.
With the increase in real estate prices more people are looking to their basements to generate income. We know how to build attractive, safe and legal apartments that will command the highest rents, attract the best tenants and maximize your home's value.
"We recently finished a basement renovation with M2R Enterprises. We were very pleased with the service we received.

We worked with Mike to decide the layout of our new basement and he gave us suggestions on how to maximize our space. The project came in within budget based on the quote that we were given. We felt that the materials used were of high quality and that the sub-contractors used for the electrical and drywall were of a high calibre and did a wonderful job.

We would hire M2R Enterprises again for future renovations."

Sarah and Scott, Stouffville
The key to making your basement an enjoyable living space is in providing a warm and dry environment. Warmth underfoot, warm colours and effective lighting. In a space where natural light is at a premium we design to ensure existing windows are used effectively while still providing you with the storage space you need.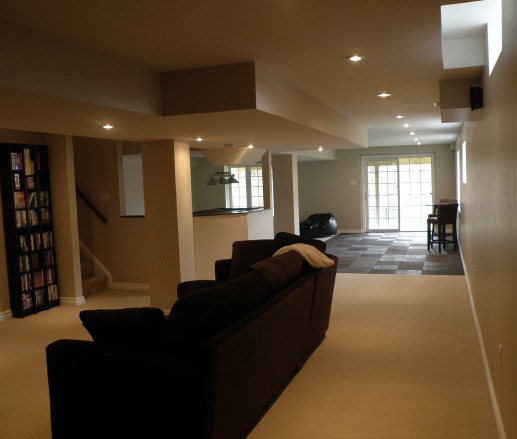 "We are very pleased with the entire renovating process that we went through with Mike from M2R Enterprises. We had our entire basement finished with a large bathroom, game area, and entertainment area. We also planned for a bar that was simply not in the budget at this time (we will have Mike back to do that in the future).

From the first meeting for a proposal and quote we could tell that Mike was someone that we wanted to deal with. Mike went over several planning and design details that we had not even considered which made the project much better than we could have imagined. Mike provided a thorough quote detailing each stage in the construction. He also presented the best payment structure of any contractor that we contacted for a quote and remained on budget for the whole project.

Throughout our experience, Mike and his employees/contractors were always polite, tidy, and punctual. For any small problems that did arise there was always a solution presented which turned out better than the original plan.

The quality of the workmanship is excellent and shows the level of pride that M2R enterprises takes in all the work that they do. We would not hesitate to recommend Mike and M2R to anyone for their contracting needs."

Drew, Newmarket
Whether you live in a new house with a fresh, untouched basement or an older home with a much-loved, wood-panelled rec room, M2R Enterprises has the imagination and design expertise you need and we'll do it right.