The bathroom: more than a place to shower and brush your teeth. The modern bathroom is a refuge from the stresses of a fast-paced world. A deep bathtub to soothe aches and pains or to relax with a glass of wine. A bright, beautifully tiled glass shower stall that helps you wake up and start the day.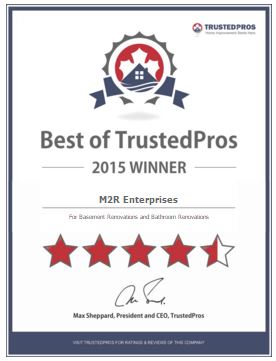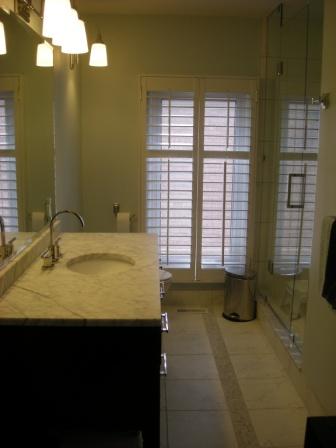 A modern, well-designed bathroom is also as an excellent way to increase your home's value. Like the kitchen, bathroom renovations return two dollars when you sell your house for every dollar you invest.
"M2R Enterprises recently renovated our bathroom and we are very happy with the results. There were a few unexpected items that came up but Mike was very diligent at explaining our options and trying to resolve things to our satisfaction.

Mike uses high quality materials in the building process as well as licensed tradespeople. Given that, his quote was very competitive and the project came in on budget.

The unique thing about Mike is his communication; he keeps the customer completely involved with daily updates and willingly answers all questions until you are satisfied.

I only regret that we did not find Mike sooner and I will certainly call him back for any future renovations. I would highly recommend M2R Enterprises with no reservations to anyone interested in a high quality job by a trustworthy contractor."

Raimonda, Richmond Hill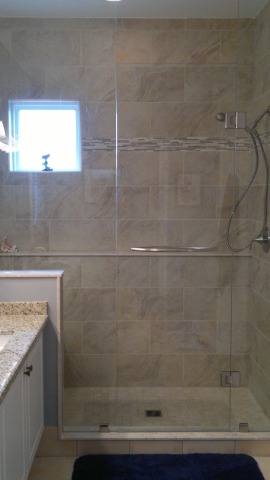 Warm tile and natural stone products, combined with beautiful and efficient fixtures make today's bathrooms true showpieces but what's underneath is just as important.
Because bathrooms are constantly exposed to water, design is critical. It is the nature of water to go where we want it least. A bathroom renovation must ensure water goes where we want it most - in the drain. Anywhere else and your problems will manifest themselves in the form of water stains on ceilings and mould inside walls.
"I would employ M2R Enterprises again in a heartbeat. Mike is extremely knowledgeable, thorough and clean during the renovation process. His attention to detail is excellent. The products he uses are top-of-the-line. The end product turned out amazing. I am more than satisfied, I am extremely pleased."

Joanne, Stouffville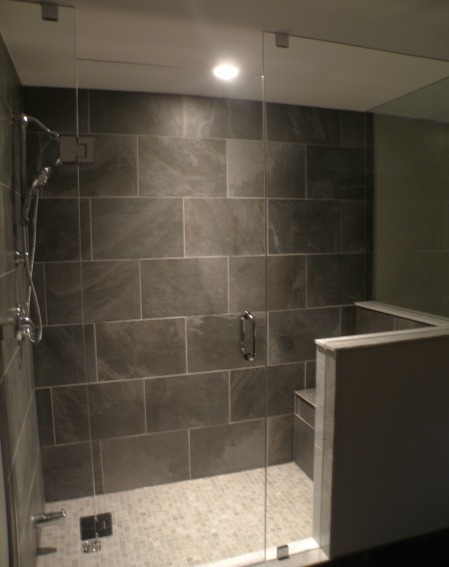 We ensure our shower and bath areas are waterproof. Water goes where we want it to go so you don't have to worry.
We receive regular calls from homeowners experiencing problems with renovated bathrooms wanting to know what went wrong. We know. They didn't choose M2R Enterprises first.
"We were very impressed with Mike's knowledge, his trustworthiness and commitment to service from our first meeting.

We had a full basement to finish and appreciated the attention to detail Mike and the people he brought in showed in their work. The project turned out better than we had originally planned due to the suggestions that Mike and his team made along the way - whether it was the dimensions of the shower, the shape of a half wall guiding people after they came down the stairs, or even the paint colour on the walls in relation to the trim.

We would recommend (and currently are) Mike to our friends and family for their renovation projects."

Wendy, Newmarket
Talk to us. We know how to do it right.